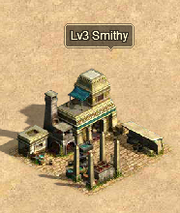 Items for troop gears can be found from world mobs, lairs, collection points, and in your guild shop.
A.Synthesizing ingredients/ore is available in other tabs of this.
B. Synthesizing is also on a percentage fail/success rate, which varies from Low to Super.
C. Ingredients/ore canbe found from lairs, collection points and world mobs.
Smithing System Introduction: Excellent equipment not only adds powerful attacks and defense to the owner, but also supreme glory and reputation! Collecting each set of sparkling equipment requires painstaking effort, but the name drilled on it will be recorded into the game's history forever!
Smithing EquipmentEditEdit
There are 5 levels of Smithing Skill, which can be learned in the Production Base. Each Skill level requires 3 conditions: 1. You have mastered the Skill. 2. Related production research level has reached the required Skill Level. 3. You have enough Guild Coins.

Build a Smithy in the City, and get the Smithing Recipes and Materials from collecting, monster drops, Shop, Guild Shop or other methods, then produce troop equipment in the Smithy.
Updated Troop Equipment Tab, the Smithy Equipment will be equipped in this Tab. The equipping method is the same as equipping a Hero.
The quality of Smithing Equipment is divided into: White – Green – Blue – Purple – Orange. When Smithing quality equipment, related advanced materials and accessory materials are necessary.
Remarks: The troop equipment you can get from the Smithy is divided into 3 types: Weapons, Armor and Accessories. They will increase target troop's ATK, DEF and MAX HP respectively. When a player collects an entire set, it will trigger the set bonus and increase one troop attribute.
Synthesizing list of Smithing MaterialsEditEdit
Metal Materials
| Basic Material | Primary material synthesizing | Middle material synthesizing | Advanced material synthesizing |
| --- | --- | --- | --- |
| Iron Ore | Refined Iron=Iron*3 | Cold Iron=Refined Iron*2+Thorium*1 | Refined Steel=Green Steel*2+Darksteel*1 |
| Silver Ore | Thorium=Silver*3 | Mithril=Thorium*3 | Darksteel=Cold Iron*2+Green Steel*1 |
| Graphite | Refined gold=Gold*3 | Green Steel=Steel*1+Bronze*1+Graphite*1 | Purified Alloy=Black Gold*1+Mithril*1+Cold Iron*1 |
| Gold Ore | Bronze=Copper*2+TinTin*1 | lack Gold=Refined Gold*2+Tin*1 | |
| Tin Ore | Steel=Iron*2+GraphiteGraphite | | |
| Copper Ore | | | |
Special material
Synthesizing Special Material
Crystal=Purified Alloy*2+Mithril*1+Thorium*1
Mica=Purified Alloy*2+Cold Iron*1+Refined Iron*1
Red Steelstone=Darksteel*2+Green Steel*1+Refined Gold*1
Outerspace Meteorolite=Refined Steel*2+Black Gold*1+Thorium*1
Accessory material:
| Accessory material | |
| --- | --- |
| Wild Boar Teeth | Raw Silk |
| Wolf Skin | Linen |
| Eagle's Claw | Silk |
| Leopard Skin | |
| Lion Skin | |
Smithing equipment recipe list:
| Recipe name | Material |
| --- | --- |
| Recipe: Primary Warrior Sword | Iron Ore*14+ Iron Ore*14 |
| Recipe: Primary Warrior Armor | Iron Ore*14+ Wolf Skin*14 |
| Recipe: Primary Warrior Shield | Iron Ore*14+ Copper Ore*14 |
| Recipe: Primary Guard Spear | Iron Ore*14+ Iron Ore*14 |
| Recipe: Primary Guard Plate Armor | Iron Ore*14+ Wolf Skin*14 |
| Recipe: Primary Guard Amulet | Iron Ore*14+ Copper Ore*14 |
| Recipe: Primary Cavalier Sword | Iron Ore*14+ Iron Ore*14 |
| Recipe: Primary Cavalier Armor | Iron Ore*14+ Wolf Skin*14 |
| Recipe: Primary Cavalier Shield | Iron Ore*14+ Copper Ore*14 |
| Recipe: Primary Archer Long Bow | Iron Ore*14+ Iron Ore*14 |
| Recipe: Primary Archer Armor | Iron Ore*14+ Wolf Skin*14 |
| Recipe: Primary Archer Arrow | Iron Ore*14+ Copper Ore*14 |
| Recipe: Primary Trebuchet Strengthen Lapidation | Iron Ore*14+ Iron Ore*14 |
| Recipe: Primary Trebuchet Defense Steel Plate | Iron Ore*14+ Wolf Skin*14 |
| Recipe: Primary Trebuchet Spinose Nave Boss | Iron Ore*14+ Copper Ore*14 |
| Recipe: Primary Ballista Strengthen Bolt | Iron Ore*14+ Iron Ore*14 |
| Recipe: Primary Ballista Defense Steel Plate | Iron Ore*14+ Wolf Skin*14 |
| Recipe: Primary Ballista Strengthen Bowstring | Iron Ore*14+ Copper Ore*14 |
| Recipe: Middle Warrior Sword | Iron Ore*14+Copper Ore*14+Wild Boar Teeth*14 |
| Recipe: Middle Warrior Armor | Iron Ore*14+Wolf Skin*14+Silver Ore*14 |
| Recipe: Middle Warrior Shield | Iron Ore*14+ Gold Ore*14+ Graphite*14 |
| Recipe: Middle Guard Guard Spear | Iron Ore*14+ Copper Ore*14+ Wild Boar Teeth*14 |
| Recipe: Middle Guard Plate Armor | Iron Ore*14+ Wolf Skin*14+ Silver Ore*14 |
| Recipe: Middle Guard Amulet | Iron Ore*14+Gold Ore*14+ Graphite*14 |
| Recipe: Middle Cavalier Sword | Iron Ore*14+ Copper Ore*14+ Wild Boar Teeth*14 |
| Recipe: Middle Cavalier Armor | Iron Ore*14+ Wolf Skin*14+ Silver Ore*14 |
| Recipe: Middle Cavalier Shield | Iron Ore*14+Gold Ore*14+Graphite*14 |
| Recipe: Middle Archer Long Bow | Iron ore*14+ Copper ore*14+ Wild Boar Teeth*14 |
| Recipe: Middle Archer Armor | Iron Ore*14+ Wolf Skin*14+ Silver Ore*14 |
| Recipe: Middle Trebuchet Strengthen Lapidation | Iron Ore*14+ Copper Ore*14+Wild Boar Teeth*14 |
| Recipe: Middle Trebuchet Defense Steel Plate | Iron Ore*14+ Wolf Skin*14+ Silver Ore*14 |
| Recipe: Middle Trebuchet Spinose Nave Boss | Iron Ore*14+ Gold Ore*14+ Graphite*14 |
| Recipe: Middle Ballista Strengthen Bolt | Iron Ore*14+ Copper Ore*14+ Wild Boar Teeth*14 |
| Recipe: Middle Ballista Defense Steel Plate | Iron Ore*14+ Wolf Skin*14+ Silver Ore*14 |
| Recipe: Middle Ballista Strengthen Bowstring | Iron Ore*14+ Gold Ore*14+Graphite*14 |
| Recipe: High-level Warrior Sword | Refined Iron*14+Steel*14+ Bronze*14 |
| Recipe: High-level Warrior Armor | Thorium*14+ Refined Gold*14+ Linen*14 |
| Recipe: High-level Warrior Shield | Bronze*14+Steel*14+ Refined Iron*14 |
| Recipe: High-level Guard Spear | Refined Iron*14+Steel*14+Bronze*14 |
| Recipe: High-level Guard Plate Armor | Thorium*14+ Refined Gold*14+Linen*14 |
| Recipe: High-level Guard Amulet | Bronze*14+Steel*14+Refined iron*14 |
| Recipe: High-level Archer Long Bow | Refined Iron*14+Steel*14+Bronze*14 |
| Recipe: High-level Archer Armor | Thorium*14+ Refined Gold*14+ Linen*14 |
| Recipe: High-level Archer Arrow | Bronze*14+Steel*14+Refined Iron*14 |
| Recipe: High-level Cavalier Sword | Refined Iron*14+Steel*14+Bronze*14 |
| Recipe: High-level Cavalier Armor | Thorium*14+ Refined Gold*14+ Linen*14 |
| Recipe: High-level Cavalier Shield | Bronze*14+ *14+ Refined iron*14 |
| Recipe: High-level Trebuchet Strengthen Lapidation | Refined Iron*14+Steel *14+ Thorium*14 |
| Recipe: High-level Trebuchet Defense Steel Plate | Bronze*14+ Refined Gold*14+Steel*14 |
| Recipe: High-level Trebuchet Spinose Nave Boss | Refined Gold*14+ Thorium*14+Steel*14 |
| Recipe: High-level Ballista Strengthen Bolt | Refined Iron*14+Steel*14+Thorium*14 |
| Recipe: High-level Ballista Defense Steel Plate | Bronze*14+ Refined Gold*14+Steel*14 |
| Recipe: High-level Ballista Strengthen Bowstring | Refined Gold*14+ Thorium*14+Steel*14 |
| Recipe: Cold Iron Blade | Cold Iron*14+ Green Steel*14 |
| Recipe: Cold Iron Armor | Mithril*14+ Black Gold*14 |
| Recipe: Cold Iron Shield | Green Steel*14+Black Gold*14 |
| Recipe: Green steel Spear | Cold iron*14+ Green steel*14 |
| Recipe: Green steel Armor | Mithril*14+ Black Gold*14 |
| Recipe: Green steel Amulet | Green Steel*14+Black Gold*14 |
| Recipe: Mithril Bow | Cold Iron*14+Green Steel*14 |
| Recipe: Mithril Armor | Mithril*14+ Black Gold*14 |
| Recipe: Mithril Arrow | Green Steel*14+ Black Gold*14 |
| Recipe: Black Gold Huge Sword | Cold Iron*14+Green Steel*14 |
| Recipe: Black Gold Armor | Mithril*14+ Black Gold*14 |
| Recipe: Black Gold Shield | Green Steel*14+ Black Gold*14 |
| Recipe: Caesar Chariot Flame Lapidation | Green Steel*14+ Cold Iron*14+ Thorium*14 |
| Recipe: Caesar Chariot Reinforced Device | Cold Iron*14+ Green Steel*14+ Black Gold*14 |
| Recipe: Caesar Chariot Defense Nave Boss | Thorium*14+ Black Gold*14+ Green Steel*14 |
| Recipe: Cho-ku Ballista Mys | Green Steel*14+ Cold Iron*14+ Thorium*14 |
| Recipe: Cho-ku Ballista Reinforced Device | Cold iron*14+ Green Steel*14+ Black Gold*14 |
| Recipe: Cho-ku Ballista Strengthen Bowstring | Thorium*14+ Black Gold*14+ Green Steel*14 |
| Recipe: Refined Sword | Refined Steel*14+Darksteel*14 |
| Recipe: Refined Armor | Darksteel*14+ Refined Steel*14+ *14 |
| Recipe: Refined Shield | Purified Alloy*14+Darksteel*14 |
| Reinforced Darksteel Spear | Darksteel*14+ Refined Steel*14 |
| Recipe: Reinforced Darksteel Armor | Purified Alloy*14+ Refined Steel*14+ *14 |
| Recipe: Reinforced Darksteel Amulet | Refined steel*14+Refined Steel*14+ Purified Alloy*14 |
| Recipe: Flame Alloy Huge Sword | Refined Steel*14+ Darksteel*14+ Purified Alloy*14 |
| Recipe: Flame Alloy Armor | Purified Alloy*14+ Darksteel*14+Lion skin*14 |
| Recipe: Flame Alloy Shield | Purified alloy*14+ Darksteel*14+ Refined Steel*14 |
| Recipe: Outstanding Light Bow | Darksteel*14+ Purified Alloy*14+ Raw Silk*14 |
| Recipe: Outstanding Light Chain Armor | Darksteel*14+Raw Silk*14 |
| Recipe: Outstanding Light Arrow | Purified Alloy*14+ Raw Silk*14+ Refined Steel*14 |
| Recipe: Burning Trebuchet Stone | Darksteel*14+Darksteel*14+Refined Steel*14 |
| Recipe: Burning Trebuchet Parclose | Purified Alloy*14+ Darksteel*14+ Refined Steel*14 |
| Recipe: Burning Trebuchet Nave Boss | Purified Alloy*14+ Purified Alloy*14+ Refined Steel*14 |
| Recipe: Tremble Ballista Arrow | Darksteel*14+ Darksteel*14+Refined Steel*14 |
| Recipe: Tremble Ballista Parclose | Purified Alloy*14+ Darksteel*14+ Refined Steel*14 |
| Recipe: Tremble Ballista Bowstring | Purified Alloy*14+ Purified Alloy*14+Refined Steel*14 |
| Recipe: War Cry King's Sword | Darksteel*14+ Refined steel*14+ Purified Alloy*14+ Outerspace Meteorolite*14 |
| Recipe: War Cry Armor | Darksteel*14+Refined Steel*14+ Purified Alloy*14+Outerspace Meteorolite*14 |
| Recipe: War Cry Amulet | Darksteel*14+ Refined Steel*14+ Purified Alloy*14+ Outerspace Meteorolite*14 |
| Recipe: Sisyphus * Immortals (Peltast) | Mica*6+ Crystal*6+Darksteel*6+ Refined Steel*6+ Purified Alloy*6 |
| Recipe: Gaea * Immortals (Pikeman) | Red Steelstone*6+ Outerspace Meteorolite*6+Darksteel*6+Refined Steel*6+ Purified Alloy*6 |
| Recipe: Odin * Immortals (Cavalry) | Mica*6+Red Steelstone*6+Darksteel*6+Refined Steel*6+ Purified Alloy*6 |
| Recipe: Yamaraja * Immortals(Archer) | Mica*6+ Outerspace Meteorolite*6+Darksteel*6+ Refined Steel*6+ Purified Alloy*6 |
| Recipe: Asura * Immortals (Peltast) | Crystal*6+ Outerspace Meteorolite*6+Darksteel*6+ Refined Steel*6+ Purified Alloy*6 |
| Recipe: Asura * Immortals (Pikeman) | Crystal*6+ Outerspace Meteorolite*6+ Darksteel*6+ Refined Steel*6+ Purified Alloy*6 |
| Recipe: Asura * Immortals (Cavalry) | Red Steelstone*6+ Crystal*6+ Darksteel*6+ Refined Steel*6+ Purified Alloy*6 |
| Recipe: Zues * Immortals(Archer) | Red steelstone*6+ Crystal*6+ Darksteel*6+ Refined Steel*6+ Purified Alloy*6 |
| Recipe: Ksana(All Troops) | Mica*6+ Crystal*6+Red Steelstone*6+ Outerspace Meteorolite*6+Darksteel*6+Refined Steel*6+ Purified Alloy*9 |