The Mars Temple is no longer a part of the game, but since they may one day bring it back I will leave this section in here for future references.  As shown in the picture below you click on your battle tab located at the bottom middle of your screen and click on The Mars Temple to open and start playing.


As shown below this is the select screen for Mars Temple the lit torches indicate levels for which you will have to pay point vouchers to participate. Level 1 of course is simply 10,000 gold to start playing.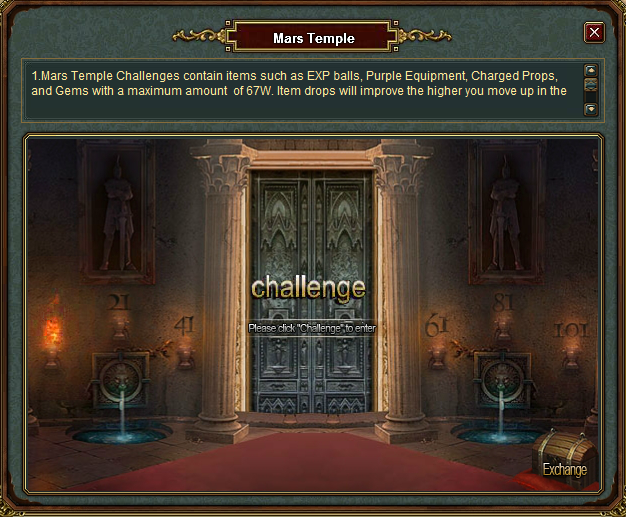 Mars Temple is a part of the game where luck rules all. You don't need a good hero or troops and there are no requirements to play. There are six different levels of play in Mars. It will always start with the number 1 torch being lit. It takes 10k gold to enter this level. The other available levels all take points to enter starting with 125 points for level 21 up to the last level of 101 which takes a whopping 5,000 points.
In the beginning stages of temple (levels 1 through 20) you can win resources packs, level 10 gears, and level 1 skills.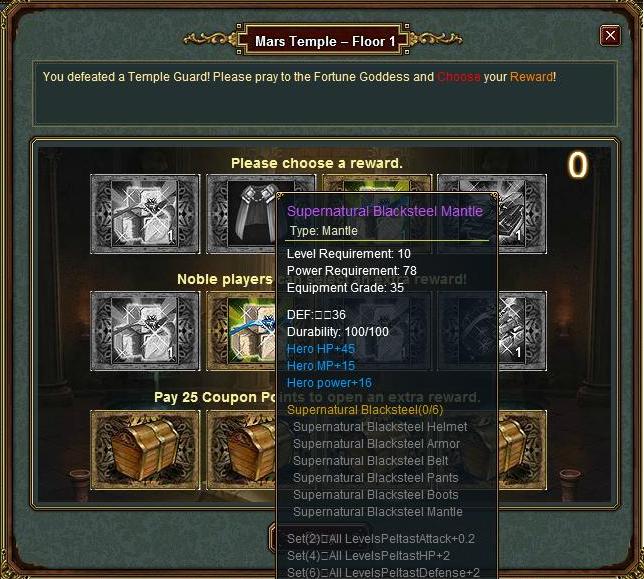 There are 3 different rows to choose from once you enter the temple. The first row is the free one. The second are for noble player which is now known as VIP. The third you can pay with points to open 1 box to get an extra item. This row consist of item such as temple remodels, gift coupons, and purple gears. The prizes in each row get better as you achieve higher levels.